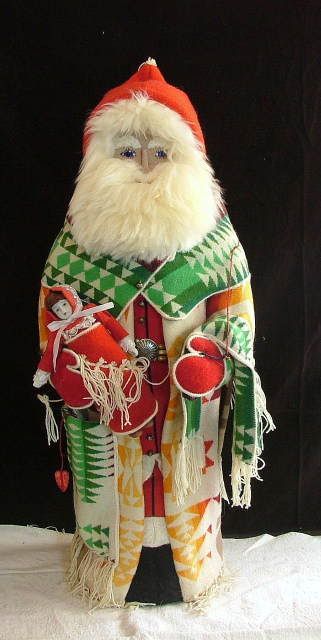 While driving around town with my oldest sister Kathy aka LaLa to family, she asked me if she could put some of her things on my website next week, and I was like "YES YES YES"!!!
She is an amazing artist; known all throughout the Southwest USA, where her Santas are sold in upscale shops in Santa Fe, a French Antique store in Dallas, and she's also in the past been invited and exhibited her works in a very large show in Williamsburg, VA.
San Angel Folk Art, located in San Antonio, TX, orders OoAK clothing made by my sister also. She uses vintage linens, fabric and accessories to make really cute and unique tops, vests, etc.
She will have several of her dolls in a Studio Tour in Santa Fe, NM, which is held every year on the day after Thanksgiving.
http://lacienegastudiotour.com/
If you know anything about Santa Fe, you know that it's a community full of some of our country's greatest artists and musuems.

These pictures are of one of her Santas, that she gave to me as a Christmas present a few years ago; standing at 30 inches tall, you can see the awesome quality of her work.
She has several in her house that she's finishing up right now that are just STUNNING! There's one Santa in blues and white wools, with silver accessories, who is holding a silver chain with a cute little dog in front of him. As always, her Santas are carrying various Christmas items, and have goodie bags full of more of her detailed toys and such.

When my children were little, they always had wonderful handmade presents for their birthdays and Christmas, that they looked forward to each year; stick horses to ride on, puppets of all kinds to play act with, a castle tower with Rapunzel in the top, and many more that I can't even remember!

Keep watch, to see when I announce her new items for my website, and bring a drool rag or bib, because I tell ya, you are going to be flabbergasted at her works!
I'm so proud of my sister - she's the oldest in our family, and I have always looked up to her and the incredible talent God has given to her. I always wanted to grow up to be just like her... :)She has always been a strong source of encouragement for me in my own art.

Janelle