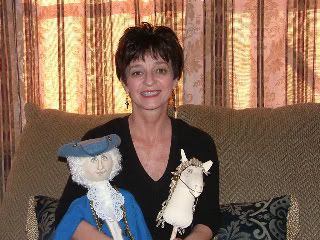 I finally decided it was time to sit down and start a blog!
My name is Janelle, and first of all, I'm a Christian - I'm a wife to Bill, a mom to Sarah (28) and Dude(26), three "bonus" kids, Chris (41), Kim (39), and Cindy(37). I also have eight grandchildren, and am a sister to LaLa, Sissy, Debla, Bubba, and Angie. They call me "Nenelle" :) Don't ask me why none of us go by our "real" names, but I can tell you this - if we're in a crowd and call out one of those names, there's no question as to will answer! I am very proud and humbled at all these blessings that the Good Lord has given to me!
I'm a self taught artist, and began drawing and sewing by 4 years old. I began by drawing out my own paper dolls and their clothes, then learned how to hand-stitch little T-shaped dresses my mother would cut out for me, so I could dress my Barbies in my own designs.

I made most of my own clothes throughout jr. high and high school, and in my early twenties, began making the display clothes for Cloth World, and also getting custom orders for prom dresses, bridal gowns, business suits, etc. One of my customers suggested I try my hand at making dolls, and in 1985, I started "Little Sister's Dolls".

I design most of my own dolls, but when I do use a pattern I've bought from another designer, I always put my own twist on it, to give it my own unique style. I use pencil water colors to draw their faces, to achieve a more realistic look.

My dolls all come signed and dated by me, and each one is unique in character and design. Thanks for stopping by!
I will be adding in some tips and techniques, recipes for "grunging", and from time to time, maybe even a good ole Southern meal!